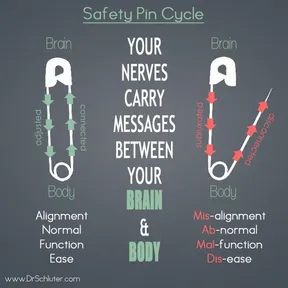 Thank you for your interest in wellness, health, and Back to Health Chiropractic!
The Burlington, VT area's premier chiropractic center
Welcome to the Back to Health Family Chiropractic patient center, where every new patient, current patient, or even former chiropractic and nutrition patient can start their journey to better overall health and wellness!
For new patients
Arriving at many doctor's offices for the first time can be a nerve wracking experience! There's paperwork to fill out, new faces and names to learn, and getting to know your way around the office; this can hit the senses all the at same time causing overload.
But not here at Dr. Molly's Back to Health Chiropractic clinic!
Here at 387 Lake Road in lovely, scenic St. Albans, VT - just a 25-minute drive from Burlington, VT - we strive to remove all those roadblocks and welcome your family into arms in a safe, caring, compassionate environment.
If you're a new patient of Dr. Molly's or Dr. Nancy's, here are a few helpful links that may get you more acquainted with our clinic and facility, our staff, obtain the majority of the paperwork you'll need, and more!
Here at Back to Health, we offer our new patients online forms so they can be completed before the appointment time at one's own liesure. You can find the patient intake forms below, however please note that you will need the latest Adobe Acrobat Reader® or similar PDF viewer installed on your device. Update your device with the latest version by click here to download it now.
Once you're done, you can either bring the forms with you to your appointment or send them to us by fax at (802) 527-2013
---
1 Required paperwork for all patients 13 years of age and older.
2 Required for all patients with Medicare as their primary insurance provider.
3 Required for all patients 12 years of age and under. Please note, youth patients' parental guardian must be present during initial visit. For more information, contact us by clicking here.