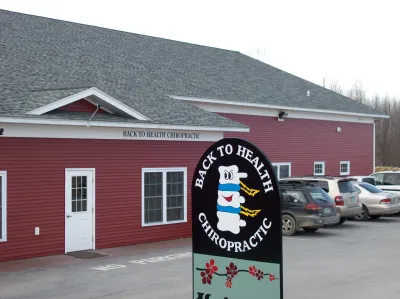 Back to Health Family Chiropractic is located in a spacious 4800 sq ft facility behind the Franklin County Sheriff's department next to the Hairloft at 387 Lake Road Suite 3 in Saint Albans, VT. There is ample parking and the facility is 100% handicap accessible.
---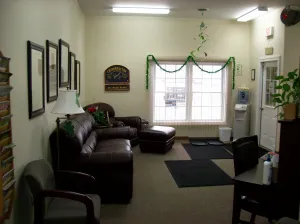 Our waiting room is large and comfortable. We have many different chairs to accommodate your sitting comfort!. You can view an educational talk or health related discussion on our waiting room TV. We respect your time. The Doctors at Back To Health Family Chiropractic, P.C. and the staff have always done their very best to keep the waiting room empty by staying on time :). We find that many of our patients stay after their treatment because they like to visit with other patients. Many patients remark, "it feels like home here."
You may notice that our front desk area is open! We prefer to be completely available and personalized with our patients by not placing ourselves behind glass.! One of our receptionists is Mr./Mrs. Bones (depending on what season and clothes we have available) will greet you with a big hello. As a patient, you can often hear Dr. Molly educating as well as telling a few tales to make their patients laugh.
---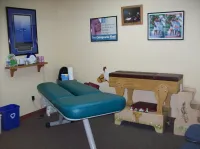 We have three adjusting rooms. For your convenience two rooms have tables that will actually lower you down and raise you up to minimize painful or uncomfortable movements. The last room has a table you can climb on and a horse table for the children. Sorry the horse table is for children 5 and under.
---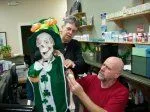 As you head down the hall, you will see our hall monitor Mr/Mrs. Bones. He/She dresses up for the season. It is not uncommon to see him/her in scarf and hat in the winter(or fleece pajamas) and shorts with a t-shirt in the summer. Say 'hi' as you pass him/her in the hall on the way to the Relaxation Station.
---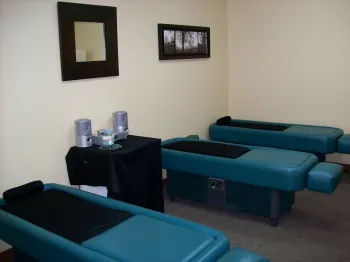 Besides getting adjusted by Dr. Molly, the second favorite place in the office is our Relaxation Station. The room has ambient light and tranquil music to put on if you would like to add to your massage bed experience.
---

As a new patient, you will be treated like we would want to be treated. In the tranquil coral room is where a detailed patient history is taken as well as various orthopedic tests are performed. We also evaluate posture and weight distribution or balance in this room. Our new patient coordinator, Jill, helps to set even the most anxious patient's mind at ease throughout this initial process. Great care and attention is given to collecting history and data with the least possible physical stress on the body. Remember, when your spine is in line...you will feel fine! Get ready to feel great:) You will also be scanned with the Insight Millenium. This state of the art technology allows us to test patients for nerve interferences (called subluxations) as well as muscle spasms or range of motion. These tests are like a 'window' to the inside--they help us see what is happening from the 'inside-out'. Should you need ice or heat we have a very private comfortable area to receive whatever therapy you may need.
---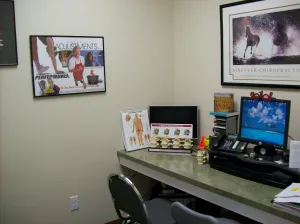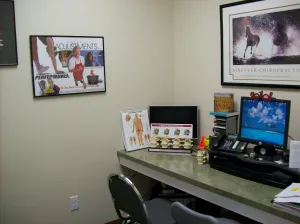 After your exam/re-exam, either Dr. Molly or their highly compentent staff review your findings in the Report of Findings Room. This is also a place where you can talk to the doctor or staff at any time confidentially. You may also talk to the doctors in their office.(see below)
---
This is our Aquabed massage table. Once you use this bed, you may just want to leave your significant other because you will feel so good! Pulsating hot jets of water massage your back while you stay dry. Sessions can be purchased either at the front desk. Schedule "your me time" now as the times fill up quickly.
---
We also have a dry sauna which is great for arthritis pain, diabetes, fibromyalgia and more.
---
One of the main reasons why we moved the clinic was the overwhelming demand of patients to include strength and training sessions in their rehabilitation plan. You will see below that this gym is not the typical gym. We have all kinds of equipment! The list includes but is not limited to the following: treadmills, elliptical, pilates, bosu trainers, fit for life, balance balls, hand weights, kettleballs, WII, total gym, steps, bow flex, bicycles, wobble boards, posture pumps, bar weights, body fat analyzer scales, U-Gallop, Leg Magic, Medicine Balls, ropes, cones, Theraband Wellness stations, rowers, inversion tables... If you need help, chances are great that we have the equipment you need. After hours, you may even see Dr. Molly's "kids" on the treadmill working out.